Nowadays, finding the perfect debit card for yourself can become quite the hassle if you have a poor credit history, if you're a UK national living elsewhere and are now planning to move back, or if you're a migrant worker.
Even if you want a secondary account, finding the perfect place to get a debit card could be pretty tedious! However, Suits Me fixes that problem for you.
In only a few minutes, you could sign up for the perfect debit card today!
Suits Me – The Best Alternative Banking Solution
Purpose Of Suits Me
UK Current Accounts By Suits Me
How To Open A Suits Me Account In 10 Minutes
Types Of Accounts Offered By Suits Me
Withdrawal Available Whenever, Wherever
Shop Online, Over The Phone, And In-Stores
Costs Involved
Contact Information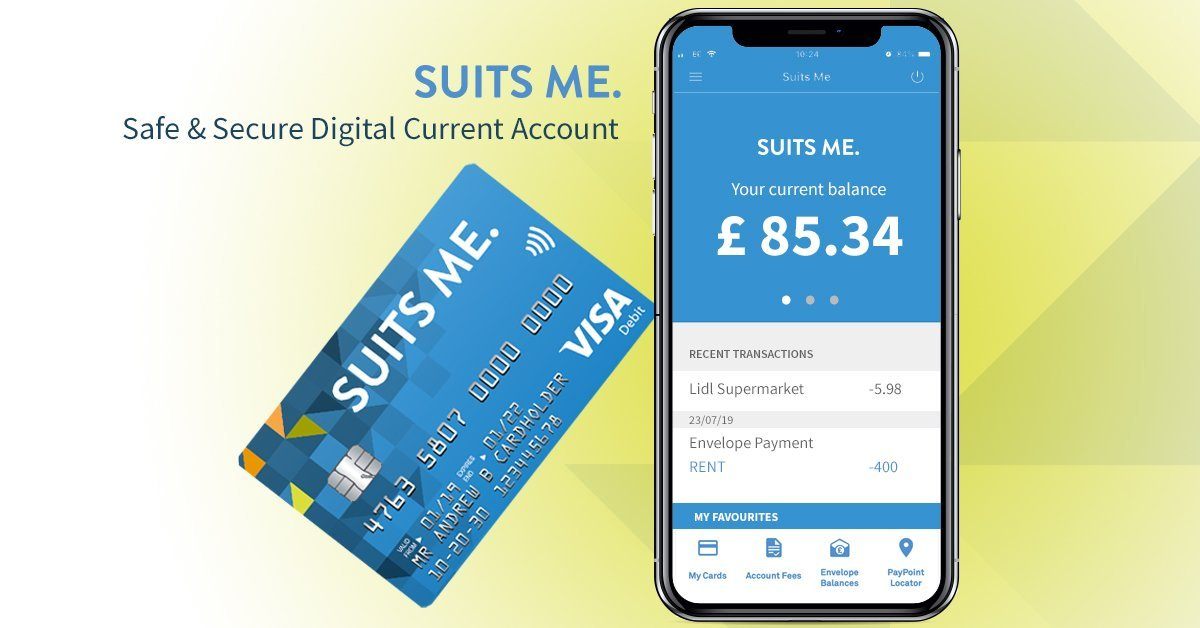 Suits Me – The Best Alternative Banking Solution
Initiated in 2015, Suits Me was created to assist all of those living in the UK but are unbanked or even underbanked. These financially excluded people face extreme difficulties opening an account and getting a debit card with the conventional high street banks.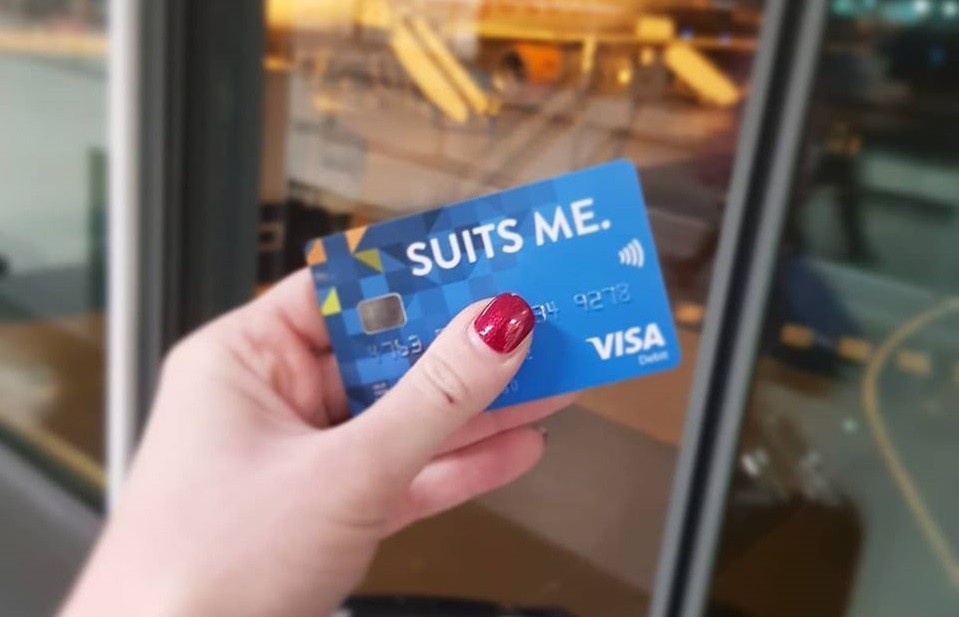 To counter this, Suits Me aims to deliver transparent and just banking solutions to everyone irrespective of their background.
Hence an award-winning e-account and debit card solution took birth with a simultaneous cashback reward scheme to make the process worthwhile.
Convenient Features
While some of Suits Me's customers may not fit the profile of a typical high street bank customer, Suits Me ensures that they offer most of the standard high street banking features in their accounts.
Some of these features include a contactless debit card, a mobile application, direct debits, and an opportunity to manage savings efficiently.
Your profile doesn't matter; you could be new to the UK, aiming to get out of the cycle of overdraft debt, or wanting something other than a prepaid card – Suits Me will cater to you.
Purpose Of Suits Me
At Suits Me, the company believes that nobody should deal with the problems of being financially excluded.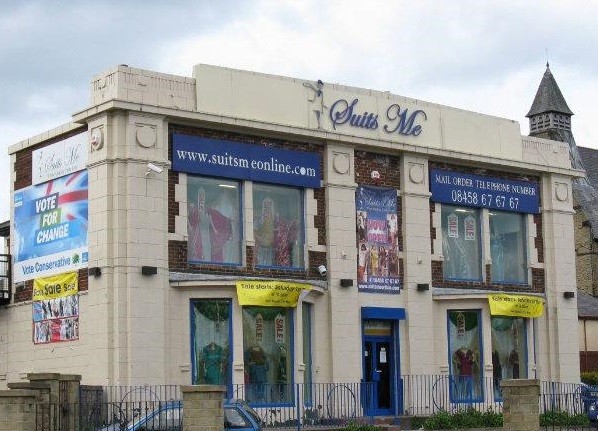 Anyone, irrespective of their background and financial position, should have access to a convenient banking solution – that is the aim of Suits Me and the service they wish to provide.
The company values promote diversity through their team but also their partners and customers. Every culture and perspective is accepted at Suits Me, ensuring that everyone is treated fairly and consistently to thrive and to live to their potential.
Poor Credit History
This is why Suits Me was created to support customers who have a poor credit history.
UK nationals who have been living elsewhere but want to move back to their country, a migrant worker who is coming to work in the UK, or even someone who would prefer a secondary account, all of these people can easily apply for a Suits Me account.
Regardless of the situation, Suits Me is there to guide you in your money management needs.
UK Current Accounts By Suits Me
It's not easy to manage your money, but now it's going to be easier. With the e-Money current account brought to you by Suits Me, you will be granted 24/7 full access to your money to stay in control and receive real-time notifications from your account. This is a hassle-free alternative to conventional high street bank accounts.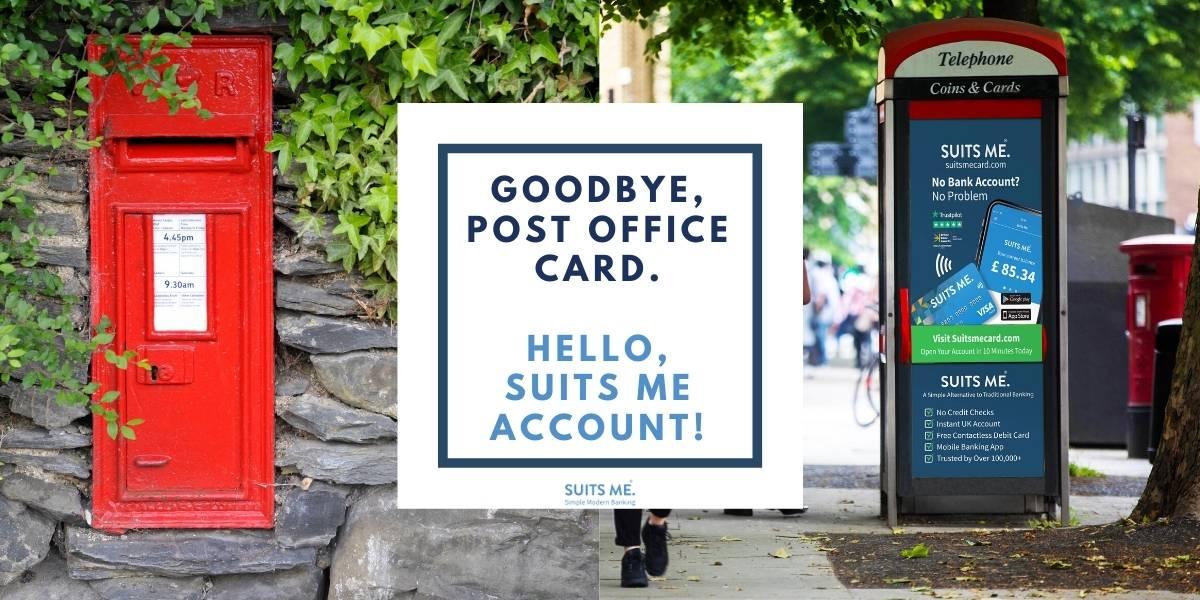 The e-money current accounts offer all the typical high street bank features without a proper physical high street presence. Other than that, the company also does not offer credit to its customers in loans or bank overdrafts.
Alternate Banking Solution
Make note that Suits Me is not a bank. Suits Me has all the features, functions, and services similar to that of a bank without providing credit facilities to users.
This is an alternative banking solution that comes with the license of an e-money.
How To Open A Suits Me Account In 10 Minutes
Yes, you saw that right. You can open a Suits Me account in just 10 minutes! All you have to do is find the application form on their website and follow the steps to open your account.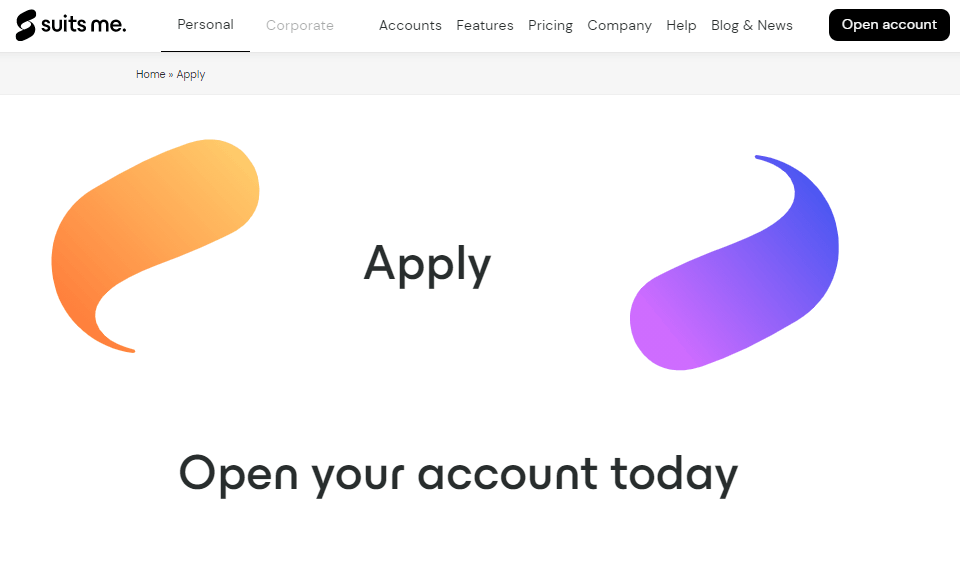 There, you will first have to pick between the packages offered by Suits Me: Premium current account or Premium Plus current account. Both of these accounts will be discussed in detail further below.
The form will ask you about your details like your title, name, date of birth, gender, nationality, and preferred language. After that, you will have to provide them with contact details and agree to the terms and conditions along with their privacy policy.
Validation Of The Information
Your data will be sent to Hooyu Ltd for identity validation, including your location, face match results, and documents to open your account.
Fret not; your data will not be shared with anyone else. You can upload your selfie and a photo of your driving license, passport, or ID card for identity.
Types Of Accounts Offered By Suits Me
You will have to pick between a Premium account or a Premium Plus account with the current accounts. A Premium account will be perfect for you if you're looking for a secondary account, while a Premium Plus will suit you if you want the main account for yourself.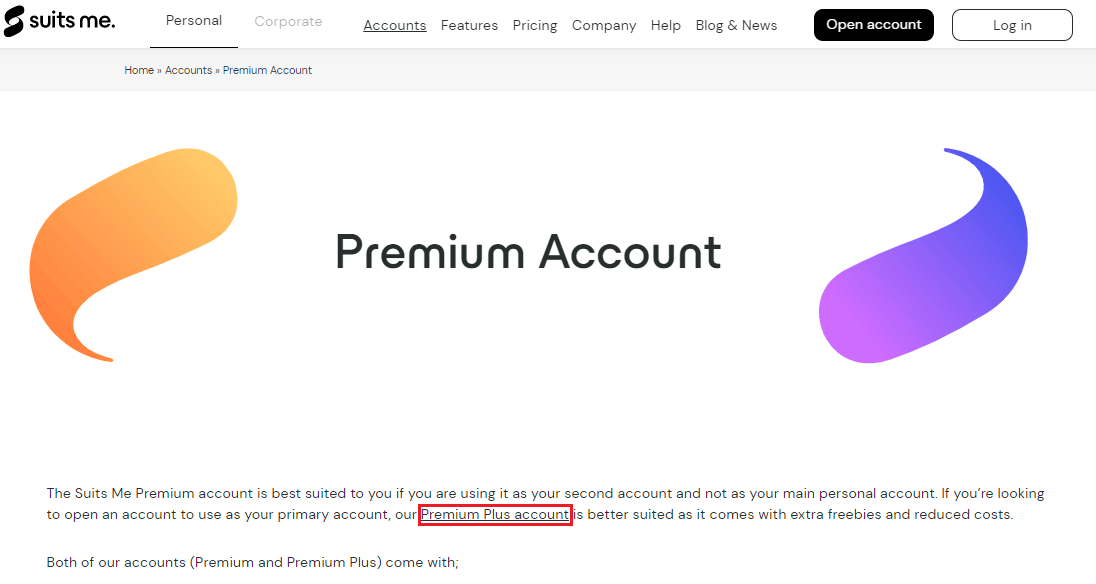 A Premium account will come with a free contactless debit card delivered within 3-5 working days, ATM withdrawals within the UK, a free mobile banking app, a free online banking account, and a top-up cash feature at any UK Pay Point.
You will get a range of banking features like direct debits, standing orders, bank transfers for just a price of £4.97/month.
Premium Plus Current Account
A Premium Plus current account will also come with extra perks such as 4 x free ATM withdrawals per month and free Standing Order setups.
There will be features similar to Premium accounts such as free debit card, mobile banking app, online banking account, cash top-up features, and so much more. The cost of this package is £9.97 per month.
Withdrawal Available Whenever, Wherever
You can spend and withdraw money from anywhere in the world using this debit card safely and securely. The card can be used at any ATM or Cash Point accepting VISA cards. With the Premium Plus package, you can also get four free withdrawals every month!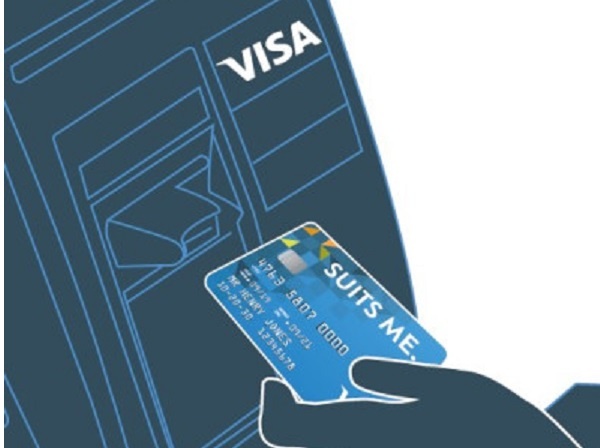 The card lets you access easy, fast, and secure contactless payments for purchases of 45 pounds or less.
This means that you don't need to enter your PIN, and you can tap your card on the payment reader before the transaction gets approved.
A Convenient Alternative
You don't need to carry cash or take out more money from your account because the merchant will take the exact amount through your card.
It's a very convenient alternative to cash payments and traditional Chip/PIN payments.
Shop Online, Over The Phone, And In-Stores
Use your VISA card to shop anywhere – shops, restaurants, cafes, or even public transport will accept this card. Wherever you see the VISA logo, you can shop online using your card as well.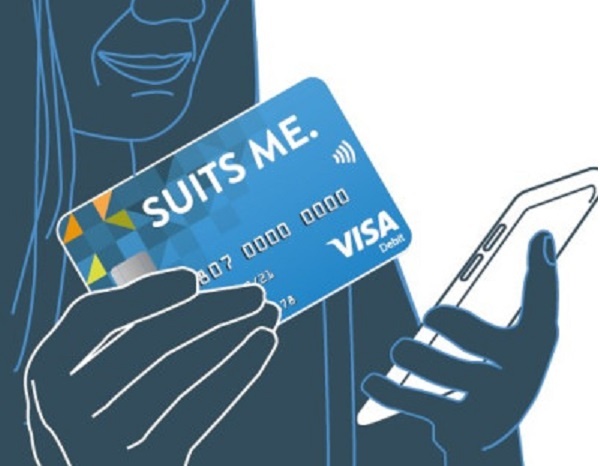 Not only this, but you can use this card to pay for things over the phone, safely and securely.
Exclusive Cashback Programme
Your Suit Me current account will also come with monthly cashback benefits. Whenever you use this card in the partner retail stores or online, the cashback will automatically go into your account every month.
Some of the Suit Me partners include B&Q, New Look, Argos, Asda, Debenhams, Halfords, Pizza Express, M&S, Sainsbury's, and so much more.
Also, if you have lost your card but you think you might be able to find out where it is, you can block your card through the mobile application or your online banking. This is a simple yet easy way to keep your account and money safe, and if you've found the card, go and unblock the card!
Costs Involved
With facilities better than any prepaid card, the Suits Me VISA Debit card can be used in around 24 million places globally, in-stores, and online. You will receive a free Suits Me VISA Debit card within the next 2-5 days when you sign up for an account.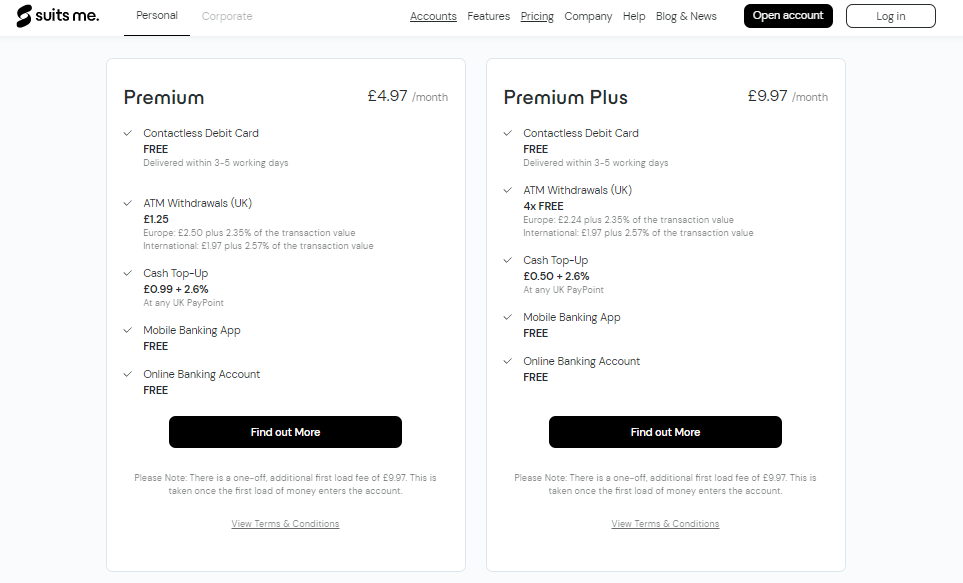 Let us have a look at some numbers.
ATM Limits

Premium: £300 each day
Premium Plus: £500 each day
One-off Fee: £9.97 for both packages

ATM Withdrawals

Premium (UK): £1.25
Premium (Europe): £2.50 plus 2.35% of transaction value
Premium (International): £1.97 plus 2.57% of transaction value
Premium Plus (UK): 4X Free
Premium Plus (Europe): £2.24 plus 2.35% of transaction value
Premium Plus (International): £1.97 plus 2.57% of transaction value

Cash Top Up

Premium: £0.99 + 2.6% at any UK PayPoint
Eligibility Criteria
The best part about opening an account at Suit Me is the convenience. As stated above, anyone can open a Suits Me account in the UK. All that is required is for you to be above the age of 18, have an address in the UK, and have a form of ID, like a driving license or a passport.
Premium Plus: £0.50 + 2.6% at any UK Pay Point within minutes; you can open your account with either the Premium package or the Premium Plus package. No credit checks are required, but you need to know that these accounts are only for personal use and not suited to business needs.
There are no hidden fees, and you can view all the costs upfront on their page.
Contact Information
To contact Suit Me's customer service, you can email them at hello@suitsmecard.com or call them at 0330 159 0199.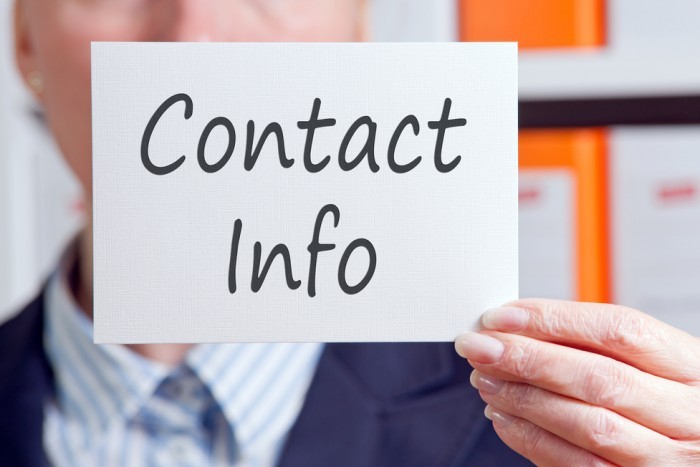 You can submit a request to them with the pertinent details, and a member from their support staff will contact you at their earliest.
Disclaimer
There are risks involved when applying for and using credit products. Ensure you consult the bank's terms and conditions page before agreeing to anything.
Conclusion
In short, Suits Me provides a solution for anyone tired of conventional banking these days. Reach out to their attentive customer service if you have any questions, and sign up if you're interested!